Whilst there has been much talk of the camera and battery upgrades of the iPhone 13 and iPhone 13 Pro, there is another feature that flew under the radar.
The new iPhone 13 range is the first iPhone model to support Dual eSIM. While previous iPhones allowed you to use eSIM for one carrier and a physical SIM for the other, you can now use eSIM for both.
Read: The iPhone 13: What's new in the latest Apple launch?
iPhone 13 Dual SIM – All you need to know
Models from the iPhone XR use Dual SIM Dual Standby (DSDS) technology, which enables both SIMS to be active at the same time to make and receive calls. The benefits of having two sims are that you can have separate numbers for work, home, business, clients, and more. When using two sims you can get extra data, minutes, another networks coverage and a local sim avoids roaming charges when traveling abroad.
Is this the end of physical sim cards
With the new iPhone 13, the possibilities are endless and users can now forgo their physical sims completely and run two eSIMs on their devices at the same time. As a result, users will no longer need a physical SIM card if they want to use two different numbers on the same iPhone — provided their network supports it.
Apple does point out that the iPhone 13 and the iPhone 13 mini are incompatible with existing micro-SIM cards. Therefore, users will need to use a nano-SIM card if they plan on utilising a physical SIM.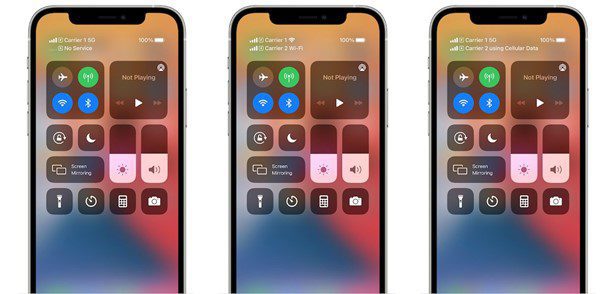 According to Apple, dual SIM is perfect if you want to use one number for business and another for personal calls, or for separate voice and data plans, which can be great news for business phone users who want, or need, to keep work and personal separate.
Ditch the double phone dilemma with dual eSIM iPhone
This dual eSIM compatibility is the perfect solution for employees who prefer to use the same device for work and personal use as everything that's important to you is in one place, with the familiarity of how to use that one device instead of learning two that could be on different platforms- think about switching from Android to Apple all the time!
Get your iPhone 13 dual eSIM business phone from Communications Plus
At Communications Plus we have a range of options when it comes to choosing a Dual sim device. Along with our commitment to provide our award-winning customer service to every customer, every time. Our expert team will help you get the tech you need. We'll also manage your business mobile account so that you don't have to worry, and our team will always be around whenever you need us. Give us a call! 03701 020204