Apple recently released details about upcoming changes to their latest operating system. Due to be released in Autumn 2021, iOS 15 introduces new features for FaceTime calls, tools to reduce distractions for increased workflow, redesigns for Safari, Weather and Maps plus some added privacy features.
Overview of New Features
Redesigned Notifications, Safari, Weather, Maps and Notes
Text Recognition in Images
Added privacy features
Spatial Audio and SharePlay for FaceTime
Which devices will be supported by iOS15?
iOS 15 will be compatible with all the same iPhones as iOS 13 and iOS 14. iOS 15 compatible devices are listed below:
iPhone 12
iPhone 12 mini
iPhone 12 Pro
iPhone 12 Pro Max
iPhone 11 Pro
iPhone SE (2020)
iPhone 11 Pro Max
iPhone 11
iPhone XS
iPhone XS Max
iPhone XR
iPhone X
iPhone 8
iPhone 8 Plus
iPhone 7
iPhone 7 Plus
iPhone 6s
iPhone 6s Plus
iPhone SE (2016)
iPod touch (7th generation)

Benefits for Business
One of the newest additions we're most excited about is the new Focus Feature. It has been designed to filter notifications and apps based on what a user wishes to focus on at a certain time. When a users' Focus is blocking incoming notifications, their status will be displayed to others in Messages.
This feature will help for different occasions including work hours or winding down for bed. Users can create a custom design for which apps they want to receive notifications from and when Focus is set on one Apple device, it will automatically apply to other linked Apple devices too.
This feature will be a brilliant asset to businesses. Having focus times will ensure an increase in productivity and help your employees section their time according to their personal focus patterns throughout the day.
Notifications
Similar to the Focus upgrade Notifications have been redesigned in iOS15. To reduce distraction a notification summary will collect notifications together for a delivery at an appropriate time and arranges notifications by priority.
Safari
Safari has a new, compact tab bar that floats at the bottom of the screen so users can easily switch between tabs. There is also the ability to create a 'Tab Group' to allow users to save tabs and easily access them whenever they need.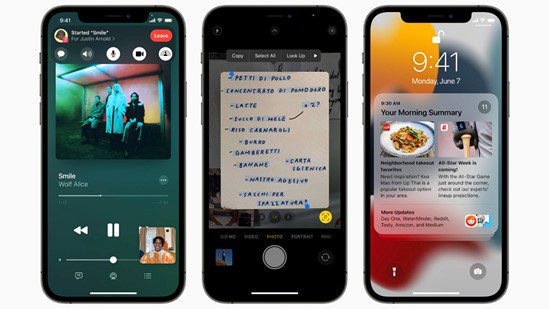 Maps
Maps now offers a 3D view in cities with enhanced details like buildings, bike lanes and includes a new city-driving experience with added road details and transit features with the option of saving regular routes.
FaceTime
FaceTime has also been updated now providing Spatial Audio and voice isolation so that people's voices sound as if they are coming from where the person is located on the screen. There is also SharePlay which allows users to share media together in sync during a FaceTime call. Shareable links are another new addition to allow FaceTime calls to be scheduled in advance and can also be opened on Android and Windows devices.
For more in-depth details of new features, we didn't cover such as updates to Wallet, Live Text, Portrait Mode, Health, Photos and Cloud head to https://www.apple.com/uk/ios/ios-15-preview/
At Communications Plus we're committed to providing our award-winning customer service to every customer, every time. Our expert team will help you with the management of your business mobile account so that you don't have to worry, they'll always be around whenever you need us.
For more information on upgrading your business mobiles or advice on picking the right devices for your team give us a call! 03701 020204
Get more information on the latest Apple devices for your business here