As a business owner, the features you look for in budget Android smartphones for your team will probably be completely different to those you would look for in one for personal use.
Key features you'll need in a business smartphone include:
A reliable battery that lasts a long time between charges.
A fast processor that can keep up with all that multitasking.
The flexibility to use certain pieces of business software that are essential to your business.
Fast wireless technology for a reliable internet connection
The ability to create a 5G hotspot, to avoid the security risks of public WiFi.
A screen that's big enough screen to do your work easily, but not so big that it makes the phone cumbersome.
A durable design that can withstand regular use and the occasional drop.
A wide range of available business apps.
Vault-like security to keep your business data safe.
Great after-sales support to help with any teething issues that your business may experience.
Not all budget Android smartphones tick all these boxes, but we've done the research for you and found one that does. Happily, it's perfect for those businesses with a limited budget, but does not sacrifice functionality for cost.
The Samsung A52 5G is the best budget Android phone for 2021
The Samsung A52 5G stands up to whatever you throw at it. It really does have all the power of a reliable business smartphone, without the hefty price tag.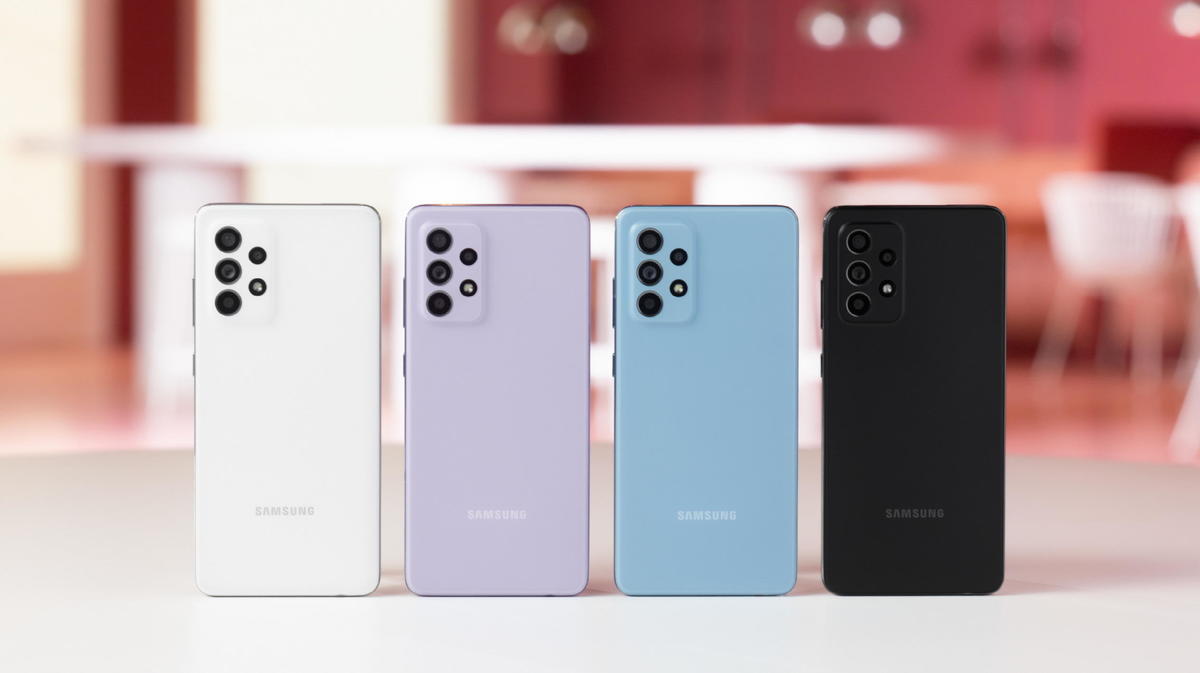 A budget Android with a reliable battery
Its long-lasting battery with up to 25W of Super-Fast Charging lets you work for longer. The 4,500mAh battery with AI (Artificial Intelligence) power management will detect and adjust to your usage habits for long-lasting power.
Powerful processor and plenty of storage
No matter how much multitasking you need to do for work, the Galaxy A52 5G can handle it.
The Octa-core processor and up to 6GB of RAM delivers a big boost in performance. And with a 5G connection, you shouldn't experience that annoying lag on video calls.
Store more of your important files with 128GB of internal storage, with the option to add up to a whopping 1TB with a microSD card.
Keeping your data secure
Samsung Knox protects your smartphone from the minute it's turned on. Offering multi-layered security, it defends your most sensitive business information from malware and malicious threats.
The Galaxy A52 5G's biometric security allows you to unlock your phone and log in to apps and websites easily and securely.
Ultra high-resolution images
Produce amazing content with the A5's multi-lens camera system, which takes your photos to the next level. The main camera features ultra-high 64MP resolution, with OIS (Optical Image Stabilisation) for crisp, clear photos no matter what the light conditions.
The viewing angle can be expanded with the Ultra-Wide camera option. This sees the world in a similar way to human eyesight, adding more perspective to everything you shoot. You can also customise focus with the Depth Camera or get closer to the details with the Macro Camera.
Stereo audio experience
The two speakers – one on top and one at the bottom – create a stereo audio experience without earphones on business video calls.
Samsung A52 5G Key Features
Size: 159.9mm x 75.1mm x 8.4mm
Weight: 189g
Resolution: 750 x 1334 pixels at 326 ppi
Battery: 4500 mAh with 25W Super-Fast Charging
Storage: 128GB, external storage up to 1TB.
Memory: 6GB RAM
Front camera: 32MP
Rear camera: 64MP
IP67 for water and dust resistance
If you're looking for a budget Android business mobile phone you can browse our deals including those for the Samsung A52 5G by clicking here.
If you're already using business phones for your team, but want to see if you could save money by switching to a new provider, click here to use our cost savings calculator.
Give us a call on 03701 020204 to speak to us about any of our business mobile phone plans. Alternatively, send us a message today.