Having a modern business mobile phone is like carrying a mini computer in your pocket.
It can do everything from helping you manage your emails, to carrying out complex tasks and completing projects on the go.
For a smartphone to be a reliable business device, you need some key features:
Reliable battery that won't run out every few hours while you're on the go
Durable design that can withstand being used often and can withstand drops and spills
A fast processor that can keep up with your work
Fast wireless technology for a reliable internet connection
A big enough screen to do work on, but not so big you can't carry your phone
A wide range of available business apps
Reliable security to keep your business data safe
But what if you've got a limited budget or don't want the extra media features that many of the premium smartphones come with?
Do you need to sacrifice functionality to choose a budget smartphone for your business?
No. The business mobile phone market is flush with options today and that includes smartphones for a budget that can do many of the same things as their fancier counterparts.
But which budget business smartphone is the best for you?
Before we give you our recommendation, here's a couple of options that could suit you as well:
Samsung Galaxy S21
Google Pixel 5
Google Pixel 4a 5G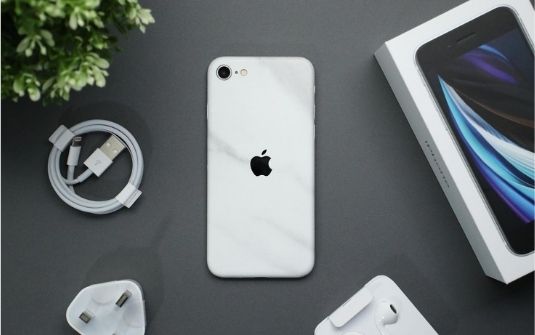 The iPhone SE (2020) is the best budget phone right now in 2021
Apple has long been the king of business smartphones and it's upgraded iPhone SE (2020) fits the bill perfectly for a business capable smartphone that provides what you need, without breaking the bank.
While the exterior design looks more like an early iPhone, it's actually built solid and is based on the iPhone 8 model, which includes the up-to-date processor and software that can rival many of the premium business smartphones on the market.
If you're keen on Apple's iOS system then the SE (2020) is the cheapest currently on the market.
That may change later in the year as Apple introduces its latest round of updated phones, but for now the 2020 SE is your best choice.
iPhone SE (2020) Key Features
Size: 138.4 x 67.3 x 7.3 mm
Weight: 148 g
Screen: 4.7-inch Retina IPS LCD display
Resolution: 750 x 1334 pixels at 326 ppi
Chipset: Apple A13 Bionic
Battery: 1821 mAh (fast charging 18W, wireless 7.5W)
Storage: 64GB, 128GB, or 256GB
Memory: 3GB RAM
Front camera: 7MP
Rear camera: 12MP wide
Powerful processing in a portable frame
If you're working on the go and managing multiple apps and projects at once then you'll need to know that your smartphone can keep up and won't crash or freeze as you put it through its paces.
The iPhone SE (2020) – despite being one of Apple's budget phones – actually shares the same A13 bionic chip as the later iPhone 11 which, according to Apple, is its fastest chip ever in a smartphone.
The processing also has machine learning capabilities built in which can monitor and improve your phone's performance and efficiency over time based on how you use it.
Reliable battery
The last thing you need when you're working remote and on the move is for your smartphone to lose battery.
That's not a big concern with the iPhone SE (2020) which has a reliable battery life and can survive 13 hours between charges for watching videos, eight hours when streaming videos and 40 hours when listening to audio.
This means that for basic email management or using apps you'll know it can last your full work day.
Even if you do forget to charge it overnight or you go through some particularly heavy use and drain the battery, it can reach up to 50% charged in 30 minutes.
That means you can be quickly up and running again.
Storage
The iPhone SE (2020) comes with three storage capacities (64GB, 128GB and 256GB).
Obviously the higher the capacity you choose the more you'll pay but given this is a good phone for a budget, even the highest capacity model won't break the bank.
Plus, if you find you need extra storage later you can always pay a small subscription fee for extra storage via iCloud.
A screen that won't stop you working
With a 4.7inch retina display, the iPhone SE (2020) obviously isn't in the same category as an iPhone 12 Pro or 12 Pro Max, but it's a screen that makes it easy to read your emails or review and sign documents without straining your eyes.
Business apps
Apple's App Store has a vast array of business applications that can be easily downloaded and used on your phone.
It can also be easily managed from device to device by signing up to subscription business services and downloading the mobile apps onto your employees' phones.
Keeping your data secure
All Apple smartphones and devices come with security and encryption built in that starts working from the moment you turn the phone on. Apple also carries out regular updates of its software to ensure you're keeping up with the latest threat protection.
You'll need to manage these updates device by device (unless you're using a managed mobile service who can do this for you) but downloads are easily managed by users with a single click.
All the power of a reliable business phone without the price tag
If you're looking for a powerful and reliable business smartphone that won't set you back a huge amount then the iPhone SE (2020) is the perfect solution for iPhone users or Android users looking to bring their communications costs down.
Without the price tag of the latest premium iPhones or Android equivalents it packs a big punch with a powerful processor, solid battery life and good storage capacity that will make working on the go a breeze.
If you're looking for a business mobile phone you can browse our deals including those for the iPhone SE (2020) by clicking here.

If you're already using business phones but want to see if you could save money by switching to a new provider, click here to use our cost savings calculator.